76 MB Unimog 406 Doppelkabine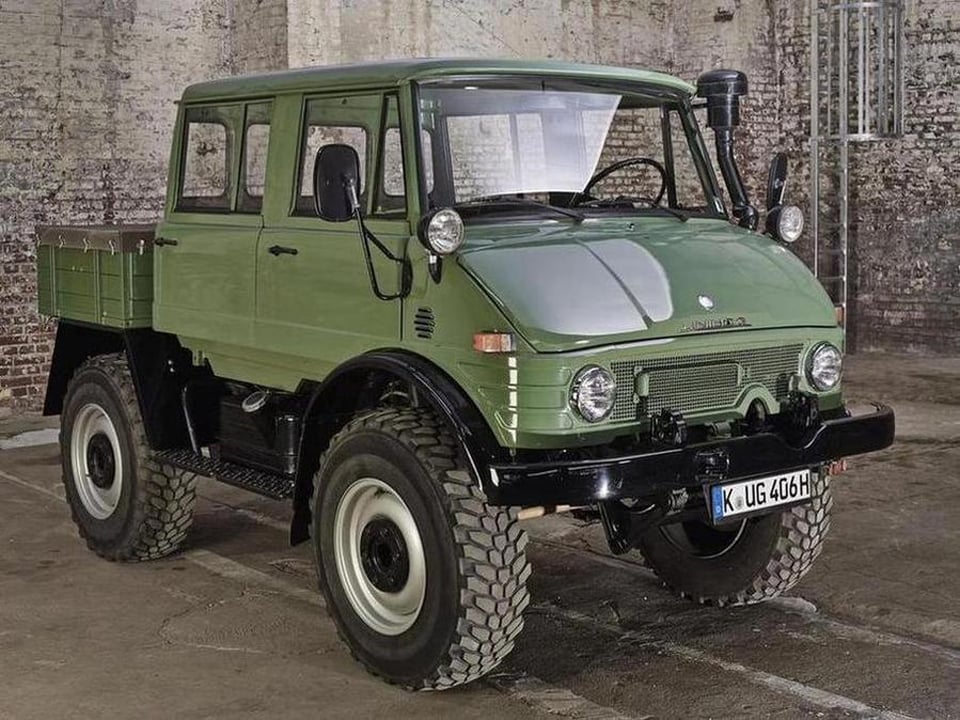 This awesome off road classic is completely restored and available at auction!
Designed in the aftermath of WW2 and still in production today, the Unimog 4×4 was intended to serve the needs of the agricultural community but, like the contemporary Land Rover, ended up filling an almost limitless variety of other roles. One of the Unimog's more unusual design features was a flexible chassis frame, effectively part of the suspension, while the equal-sized wheels meant that it was better suited for highway use than a conventional tractor. Power take-offs were provided to enable the Unimog to operate a wide variety of machinery: brush mowers, snow blowers, etc. Manufactured by Mercedes-Benz since 1951, the versatile Unimog has seen service with fire departments, municipal authorities, aid agencies and armies worldwide, and has won the truck class of the Dakar Rally more than once. 


The vehicle offered here is an example of the 406 series, which was introduced in 1963 together with the long-wheelbase 416 and produced until 1988. All variants were powered by diesel engines of varying outputs, this six-cylinder Unimog having the 84bhp unit installed. Originally a Bundeswehr (German Army) aircraft tug used on military airports, the vehicle was always garaged in aeroplane hangars, hence the rust-free body. Noteworthy features include a converter clutch; power take-off shaft at the front for additional gear; 'Schmidt' plate to attach further tools (snowplough, front loader, etc); ball-hitch tow-bar; rear luggage platform; Webasto vehicle heater (retrofitted in 1995); front and rear safety belts; and the original speedometer (detached but with vehicle). 


Acquired by the present owner and painted in the more 'civilian' colour scheme of olive green and black, the Unimog is presented in generally good condition. The original engine has seen approximately 3,300 hours of running time, the wheels and tyres are new, and the seats were refurbished some time ago. A five-seater, the Unimog has been in use recently as a hunting support vehicle, a task for which it is ideally suited. Offered with German registration papers